With leisure centres and gyms being able to open from 12th April it's a great time to get back into your fitness routine but we know it can be a bit overwhelming after spending so long at home. Whether you have been keeping up with home workouts, walks or you've just been resting in lockdown we have some tips to get you back on your gym journey.
Show up to the gym!
First things first. Just show up – it's as easy as that *High Five*! Don't put too much pressure on yourself on the first visit back, it's all about getting back into that routine you once had and familiarising yourself with the equipment. It can be a bit overwhelming when you haven't been to the gym in so long.
You can prepare yourself for your first visit by making yourself a routine to crack on with, this will help you stay focused and on track. If you are unsure where to start or what you should be doing, we can help point you in the right direction so just pop in for a chat at any time.
Ease the pressure
If you haven't been keeping up the same amount of exercise throughout lockdown, that's ok – you are not alone! You'll want to start back doing something you enjoy, have you missed the cross trainer? Or perhaps you can't wait to get your hands on a set of dumbbells, start with the exercise you've missed the most! If you enjoy lifting weights but haven't been able to keep it up,  try not to be tempted to go straight for the same weights as before.
Lifting too heavy too fast after a long break can lead to muscle injury.  You need to ease yourself in both mentally and physically, cut what you were originally lifting by around 50% for the first week and then begin to up it in the second week until you get back to the same weight you used to lift.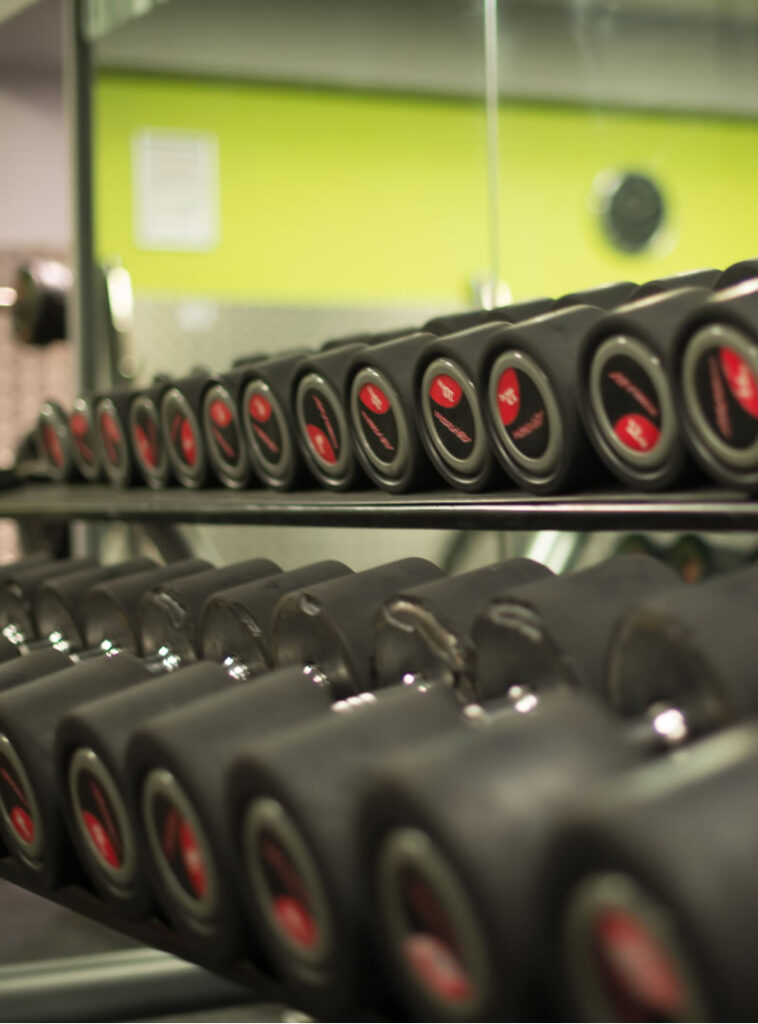 Look After Yourself between Gym sessions
Yes, we know the gym has been closed for the last 4 months but you will still need a rest in between sessions. Your body will need time to recover from each session while you ease back into gym life, try to give yourself time for this and aim for 3 workouts a week to begin with and up it as you go!
There is no better medicine than sleep! Making sure you sleep well is key to your body's recovery between sessions (between 7-9 hours). Let's not forget nutrition is an important aspect to not only aid your recovery between sessions but to also help you get you back where you want to be…quicker!! Make sure you are getting enough calories on those work out days and eating a healthy balanced diet.
Have Fun
Having a healthy relationship between you and the gym is important, you need to enjoy what you're doing to keep the momentum going. There are a few things you can do to spice it up…
Healthy competition could be a great way to keep you motivated, do you have a friend or a family member on a fitness journey too? Share your progress with them, or better yet – attend the same gym (socially distanced of course!)
Switch up your work outs regularly so you don't get bored of the same routine, this is a good way to make sure you are working the whole body throughout the week too!
Now, enough reading! We hope we have given you enough inspiration so now it's time to pop those trainers on, get your favourite playlist going and get back to that gym routine!
Not signed up to a gym? Check out what club membership at The Hythe Imperial Health Club & Spa has to offer! Memberships available online – CLICK HERE TO SIGN UP