What is Maskne?
Maskne (mask acne) is a term used to describe the flare ups we are getting in the area around where our mask sits.
Acne caused by masks is different to normal acne as it is a direct result of a physical disruption of the skin rather than hormone or lifestyle related. When worn for long periods of time the mask will create a humid environment, this will create moisture and sebum (oil) production in that area and our open pores will then become blocked which is what's causing those uncomfortable and inflamed break outs.
What can I do to prevent Maskne?
We need to keep following advice on wearing our masks to keep ourselves and others around us safe from Covid-19 but here's a few tips on how to make that a little easier on our skin.
Try getting a soft fabric mask that fits nicely. If the mask its too loose it wont have as much protection, but if its too tight it could cause more irritation and flare ups. Avoid the use of disposable masks if you can, not only are these a more expensive option but the over use of disposables has a very negative impact on the environment.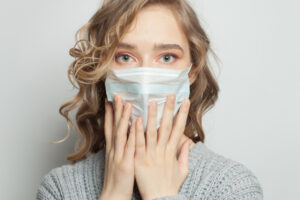 Wash your re usable mask daily, its always handy have a few masks in rotation so you are never without a mask on laundry day.
Avoid wearing make up! Make up is known to clog pores so when you add it with the moisture created under the mask it is not a good mix at all, try and keep the skin as clear as possible.
Preventative skincare
Mask acne can affect any skin type and not just oily/combination skin so the key is to work the right products into your skincare routine.
**Cleanse** If you don't already, cleanse twice daily. Once in the morning before putting on your mask and then at the end of the day once you take your mask off. This will help cleanse the pores and rid them of any build up that could cause the blockages.
**Exfoliate** Depending on your skin type you will want to exfoliate the skin 2-3 times a week to get rid of any dead skin cells but also cleanse deep down into the pores getting them squeaky clean.
**Mask** Once a week you could introduce a mask into your evening skincare routine, if you are seeing congestion on the skin you can get some wonderful cleansing masks to give your skin an extra boost. if you have normal/dry skin try using a moisturising/nourishing mask to soothe the skin from any chafing or irritation the mask might be causing in that area.
**Treatment** Serums or treatments can be used on a daily basis based around your skin type. If you are suffering with mask acne look out for cleansing or anti bacterial ingredients that help control oil production such as, tea tree, lemon grass and lavender as an anti inflammatory. Another magical ingredient you may have already heard of is Salicylic acid, an organic acid that helps to unclog and also tighten pores reducing the risk of congestion.
**Moisturise** Yes even if you have an oily/combination skin your still need the hydration. Pick one to suit your skins needs and moisturise twice a day. I wouldn't be doing my job if i didn't recommend using a moisturiser containing SPF for that morning routing.
Recommended Products
All of these products are also available in our Caudalie Facials. Book Online using code WEBLOG20 for 20% off! (discount available until 30/07/2021)  CLICK HERE TO GET 20% OFF
If you are unsure of where to start with your routine please feel free to come and see us and our therapists will be more than happy to point you in the right direction when it comes to skincare.
Meanwhile check out these recommendations below;
Caudalie Vinopure Purifying Gel Cleanser cleanses and purifies the skin without causing dryness, you can use this day or night (or both!) . Uses salicylic acid, lavender and lemongrass £16 available to purchase at the spa reception.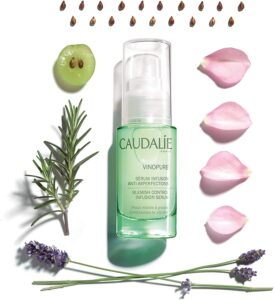 Caudalie's Vinopure Blemish Control Serum is the perfect addition to your routine. This concentrated shot of natural salicylic acid and organic essential oils works to visibly reduce blemishes, tighten pores and refine. Available to purchase at the spa reception for just £29.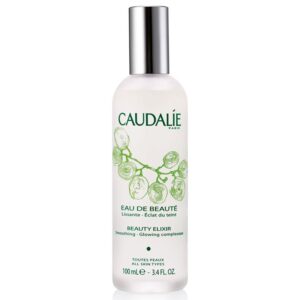 Beauty Elixir is one of Caudalie's best sellers. It fits in perfectly with any skincare routine and has so many uses! Made of 100% natural-origin ingredients and bursting with powerful plant extracts, this cult favourite reveals an instant radiance boost for the complexion, whilst tightening the pores and smoothing fine lines and make-up creases. Its perfect to keep in your handbag or at your desk to refresh the skin throughout the day.
Famously used as a make-up setting spray backstage at fashion shows, this priming mist can be used under or over your complete make-up look, enhancing its longevity and reviving tired and dull-looking skin.
This revitalising mist gives you an immediate radiance boost. Of course its available to purchase at the spa reception for £32!