Blue Light – What is it and how does it affect my skin?
As a result of the pandemic we have all spent a lot of time staying at home and staying safe over the last 12 months. I'll bet a lot of your time over the last 12 months has been spent on an electronic device too.
According to statistics, millennials check their smartphones on average 157 times a day. That is more than five times as many as older adults, who check their phones on average only thirty times a day!
If any of this this applies to you, we need to talk about blue light and the effect it has on our skin…
So, what is blue light?
64% of people are unaware of what blue light radiation is. The fact is you can't escape blue light, we get it from sunlight after all. In its natural form Blue light helps our body regulate our natural sleep and wake cycles, it can boost alertness and improve our mood.
Artificial blue light is the naughty thing we are here to talk about. It comes from our everyday devices such as phones, laptops and tablets. Over exposure to artificial blue light can have negative effects to the skin such as premature ageing and pigmentation, inflammation and weakening of the skin (yikes!)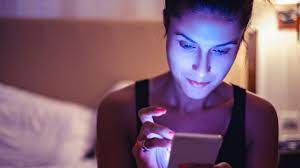 There are a number of ways blue light can affect us but we are here to talk about how to support your skincare routine and protect your skin.
What can I do to look after my skin?
So, we all know that if we are out in the sun we should protect ourselves from the damage it can cause by wearing a good SPF, but what damage can artificial blue light cause and how can we protect ourselves?
Anti-oxidants are really the super heroes in this, products using Vitamin A, C and E are a great start to protecting the skin. These ingredients work by helping to prevent Oxidative Stress (aka Free Radical damage' – free radicals are the nasties responsible for premature ageing, inflammation and dark spots.
You can also support these products by looking after yourself from the inside-out! Eating a balanced and healthy diet rich in anti-oxidants (fresh fruit and vegetables) along with plenty of water can do wonders for our bodies and our skin (it is the largest organ after all)!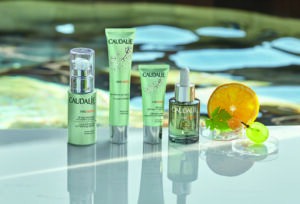 Still unsure about how to help protect your skin?
Its ok, we've got your back!
If you already have a skincare routine in the AM and PM you're happy with try and introduce a serum rich in anti oxidants to help. Caudalie's Vine-Activ Glow Activating Anti Wrinkle Serum is packed with anti-oxidant polyphenols to help protect the skin from aggressive factors (pollution, stress, etc.) on a daily basis, visibly smooth wrinkles and restores a new healthy glow to the skin.
If you haven't quite got a skincare routine don't worry, that's what we are here for! If you are unsure on where to start please feel free to pay us a  visit in the spa and we can advise you, or better yet book yourself in for a Vine Active Facial with one of our lovely therapists who can guide you step by step to better skin!
BOOK ONLINE HERE – https://www.secure-booker.com/hytheimperial/BookOnlineStart.aspx